Blog Topics
Paying Staff Without UK Bank Accounts – Pre-Paid Credit Cards
Posted on 01 July 2011 by Noreen Munro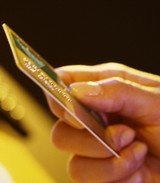 Pre-paid credit cards are becoming a genuine benefit to companies that pay staff who do not hold UK bank accounts.
With the world borders breaking down for workers, paying foreign nationals has become increasingly difficult for payroll departments.
Pre-paid credit cards may hold the answer:
The card is 'topped-up' with the employee's wages each pay period and the employee is then free to spend the money wherever credit cards are accepted or to transfer the cash to another account.
The market place is flooded with these new types of credit cards and choosing the right one for your business and work force can be a minefield.
Why not let us help you select the right provider to work with your company?
Payroll Outsourcing
Our Latest blog posts
view all
The Outsourcing Transfer Process

A brief look at the process behind transferring a payroll

Outsourcing Your Payroll – What to Expect?

First in a serious of posts about payroll outsourcing, the decision process and the benefits as well as the actual process of transferring a...

In-House vs Outsourcing Payroll

We look at some of the issues that drive a company's decision to process their payroll in-house or to outsource to a payroll provider.