The Benefits of Payroll Outsourcing
There are numerous benefits of payroll outsourcing. Perhaps the most significant of these is cost reduction. If you view outsourced payroll as an expensive luxury, try seeing it as replacing an inefficient or time consuming process with a more robust, cost effective solution.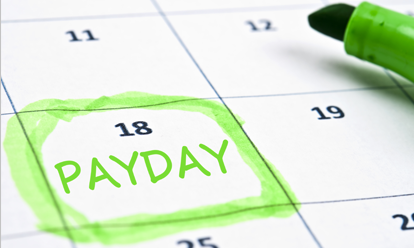 Reduce staff overheads and on-going training costs
No need for costly in-house payroll software
Reduction in administrative duties
Remove the company's dependency on key payroll personnel
Be fully compliant with constantly changing payroll legislation
Fully scalable service - grows with your business

Comprehensive disaster recovery and business continuity policies
"There is a real sense of being treated as an individual rather than just a customer with real attention to detail from a friendly, helpful team."
How does payroll outsourcing work?
The typical structure for outsourced payroll with Firefly is shown below. However, we do not impose rigid procedures on our clients, and our process will adapt to your specific needs.
1

Each week, month or fortnight, you send us your payroll alterations. This can be in whatever format is convenient for you: spreadsheet, scanned/faxed documents or just email. If you would like our advice on what method of notification is best for your business then we will be happy to offer suggestions, based upon your accounting routines.

2

We then process the payroll and through our stringent payroll checks verify the accuracy of the net payments. We then produce payroll reports specific to your requirements and copy payslips in a PDF file.

3

If you have any last minute alterations to the payroll at this stage, forward us details of the amendments and we will re-calculate the payroll and send you revised payroll reports.

4

You then authorise the final payroll figures. If you are using our BACS facility, we will submit the BACS file to credit employee accounts on pay day. Alternatively, we will send you either a BACS/Cheque report or BACS file to facilitate you making the employee payments yourself.

5

We will then provide you with a P32 report detailing the amount due to HMRC in relation to your PAYE/NIC's for the month and also produce a payroll journal if required.

6

Payslips are then uploaded to www.payslipportal.com - our dedicated, secure location for all employee's payroll related documents.
If you would like to learn more about how your business can benefit from payroll outsourcing, please call us on 0845 073 9400 or complete our online enquiry form to arrange a call back.
Our Latest blog posts
view all
The Outsourcing Transfer Process

A brief look at the process behind transferring a payroll

Outsourcing Your Payroll – What to Expect?

First in a serious of posts about payroll outsourcing, the decision process and the benefits as well as the actual process of transferring a...

In-House vs Outsourcing Payroll

We look at some of the issues that drive a company's decision to process their payroll in-house or to outsource to a payroll provider.