Blog Topics
The Outsourcing Transfer Process
Posted on 10 March 2017 by Noreen Munro
How Difficult is it to Transfer my Payroll to a New Payroll Provider?
The answer is, it doesn't have to be difficult at all!
Following on from my previous blog post which covered how to choose a payroll provider (http://fireflypayroll.com/blog/outsourcing-your-payroll-what-to-expect.html), we have a brief look at how the transfer process works for the majority of SME company payrolls.
With ever improving payroll software, most payroll providers will be able to transfer your payroll quickly and efficiently with minimal input from you, the employer.
We all have our own processes for implementing a payroll, largely depending on the structure of the payroll system used. Many payroll providers can write an import routine to match a data extract provided from the current payroll system, some can import but the data will need to be provided in a pre-set format and some more basic systems will only allow data input manually. The input of data will be the new Payroll Provider's responsibility but it is worth knowing how they will be creating your payroll database as the more manual data manipulation that is required in order to create a database, the more likelihood for errors and the final data should be tested accordingly.
Depending on the size and complexity of your payroll, the payroll provider may suggest a set number of parallel pay runs before going live. The more parallel pay runs that are processed, obviously the longer it will take to reach the live date and this should be factored when agreeing a date for going live.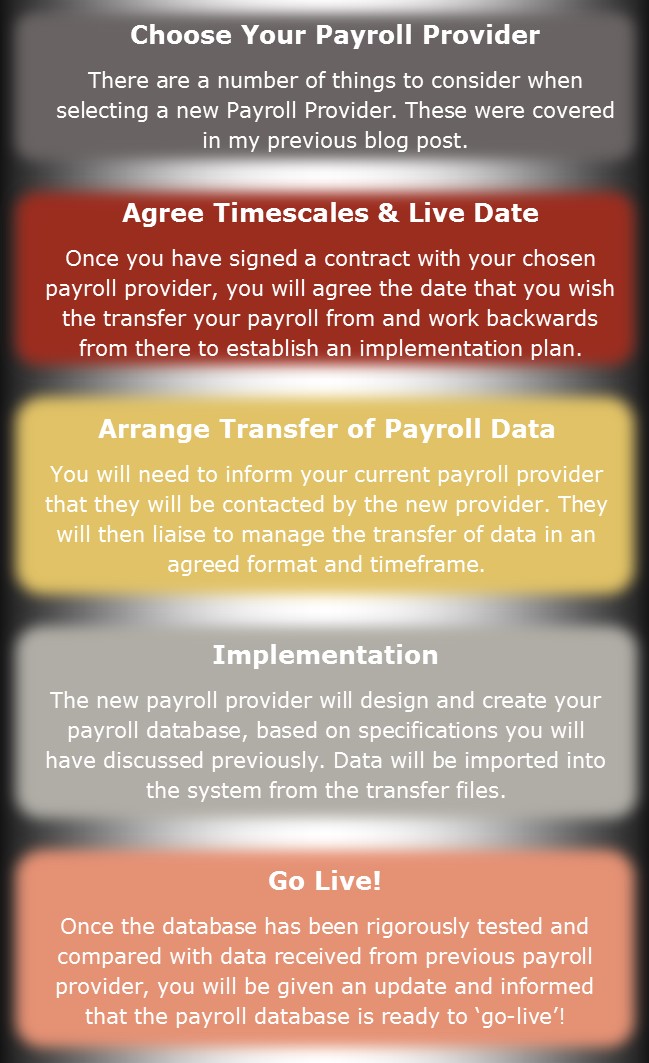 Payroll Outsourcing
Our Latest blog posts
view all
The Outsourcing Transfer Process

A brief look at the process behind transferring a payroll

Outsourcing Your Payroll – What to Expect?

First in a serious of posts about payroll outsourcing, the decision process and the benefits as well as the actual process of transferring a...

In-House vs Outsourcing Payroll

We look at some of the issues that drive a company's decision to process their payroll in-house or to outsource to a payroll provider.